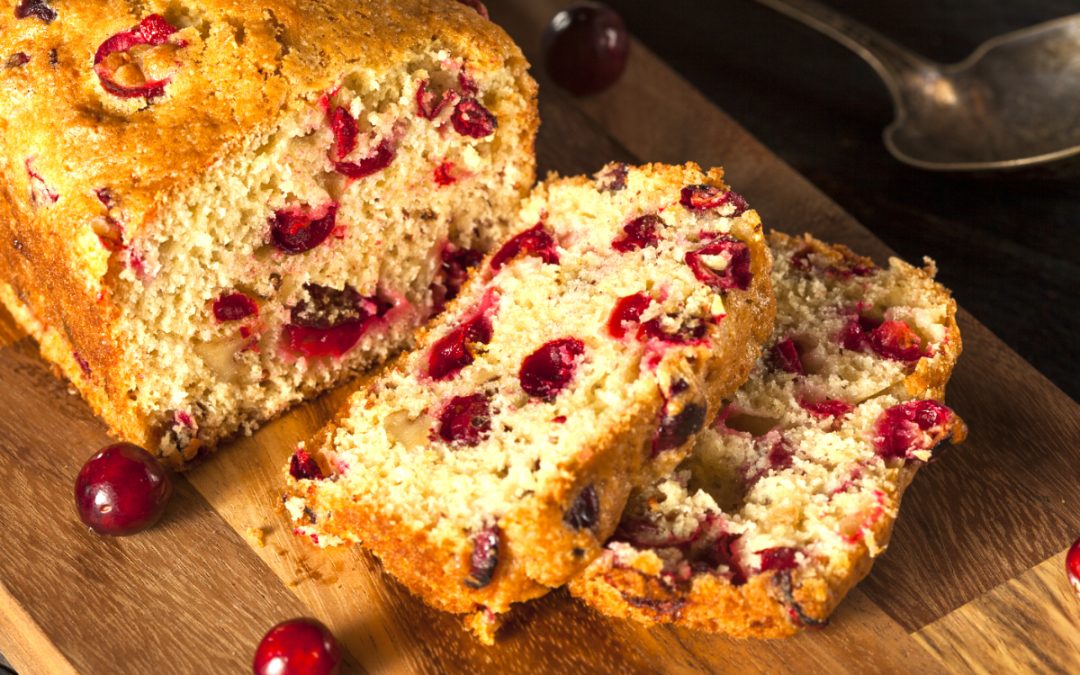 Why a vegan orange cranberry bread was stuck in my head, I'm not sure. I never baked one. In fact, my family grew up on canned cranberry jelly, and oranges never made it into cakes in our house. Orange cranberry bread, vegan or otherwise, never crossed my mother's radar. So, I took what lessons I've learned from my 2020 vegan baking test kitchen and came up with an instant favorite in my growing quick bread repertoire – vegan orange cranberry bread with fresh cranberries.
Vegan orange cranberry bread recipe tips
This pandemic year I've tried a number of different approaches to vegan quick breads. For this vegan orange cranberry bread I am giving you the 3 secrets I've discovered for a truly mouth-watering experience:
Fresh fruit

Fresh juice and zest

Tofu
Vegan orange cranberry bread best ingredients
1. Choosing fresh, frozen or dried cranberries
This year I bought two lbs. of cranberries at a great in season price. I've never felt savvy with cranberries, and the dried ones have too much added sugar for my liking. I had no idea what I was going to do with the cranberries once I got them home, but I couldn't pass up on a grocery bargain. 
You can't just eat cranberries. Well, you can technically. They are too tart for the average palate to eat alone, which is why the dried versions have so much sugar added to them. Many people like baking with the dried, because then you don't have to add extra sugar to compensate for the tartness. It's also convenient to keep ingredients like dried cranberries in the baking closet.
Since going vegan three years ago, I feel so much healthier with my plant-based choices and less junk in my diet. Trust me, I know from experience that just because you eat vegan does not mean you eat healthy. So I pay ever closer attention to plant-based choices.
I also want my plant-based baking to be as healthy as possible. And there's not a whole lot out there that can beat the power that cranberries pack. Fresh cranberries are bursting with antioxidants, and their remarkable tangy flavor makes a New Englander proud. I like taking the extra step with fresh fruit. Frozen cranberries work well, too, as long as they have nothing added to them. Don't thaw them before baking.
2. Oranges instead of orange juice 
The orange cranberry bread recipe calls for ¾ cup of orange juice, and I had just finished drinking the last bit in the OJ carton. But the two oranges in the fridge gave me exactly ¾ cup of juice, and the needed amount of orange zest. Logically you'd think, hey, if these fresh cranberries are so tart, why add orange zest, too? Don't think, just add it. We're talking about the balancing of some bold flavors here. As for the orange juice, I squeezed as much of the pulp out as well. Texture and zest, oh yes.
Whenever you bake, you want to add something acidic. In other recipes I may use a couple of tablespoons of vinegar or lemon juice, and that's plenty. We can use a lot more orange juice here because it has natural sugars.
3. Tofu and cornstarch for light texture
Adding tofu to quick breads has been a huge revelation for me. I've tried a variety of egg replacements, with flaxseed and water as my go-to substitute or apple sauce, They both work, but the result is not always as fluffy as I hope. So, finding this combination of tofu and cornstarch creates a pound cake-like texture in your quick breads. Yum! 
Previous to this recipe, I had been testing a variety of egg substitutes. You can buy blends at the store that are labeled egg replacements, but I prefer to know a few basics so as not to become reliable on yet another premade product.
I've noticed some bakers insist that only silken tofu is acceptable for baking. I say that's hogwash. The basic difference between the firm qualities of tofu is the water content. If you are concerned with limiting your water content in a recipe, use the firmest tofu you can find. It makes little difference since once it goes in the blender, as it will become smooth.
Tofu is processed, of course. Even so, the health benefits of tofu make this a magical ingredient to add to the quick bread. The reports from tofu medical studies have been better than most Westerners expected or even hoped. Below is an excerpt from a  WebMD report that lists some of the more surprising health benefits:
Coronary heart disease . Plant estrogens may help make it less likely that you'll get heart trouble. That's because they improve how well your endothelium works. That's the tissue that lines your blood vessels and the inside of your heart.

Cholesterol levels . Research shows that if you eat 10 ounces of tofu a day, it can lower your levels of LDL "bad" cholesterol by 5%.

Osteoporosis. When estrogen levels go down after menopause, women can lose bone mass. Plant estrogens in tofu can make up for that drop-off. Tofu is also rich in calcium and vitamin D, which is good for bone health, too.

Prostate cancer . If you have this disease, eating tofu may keep your prostate specific antigen (PSA) levels low. This means the cancer grows more slowly or not at all
Read original report at webmd.com
Below please enjoy my newest addition to my quick bread recipe card box, vegan orange cranberry bread. I almost stopped after blending the liquid ingredients and tofu, since it reminded me of one of my original favorite smoothies – check out my vegan orange protein smoothie for a fund tofu drink, too!
Vegan Orange Cranberry Bread Recipe
Here is my new favorite festive treat. Sprinkle sugar on top, or make an icing out of powdered sugar, vegan butter and soy milk for an extra decadent treat.
Equipment
1 medium loaf pan

blender

1 large bowl

measuring spoons and cups
Ingredients
¾

cup/180 ml orange juice

about 2 oranges

1

Tbsp.

orange zest

about 2 oranges

4

oz.

/ 120 g tofu

any firmness

2

tsp.

pure vanilla extract

2

cups

/ 200 g flour of your choice

all-purpose or gluten-free (don't use whole wheat)

2 ½

Tbsp

/ 25 g cornstarch

1 ½

tsp

baking powder

½

tsp

baking soda

1/4

tsp

salt

1 ¼

cups

sugar

your choice, or any substitute: coconut sugar, date syrup, maple syrup, xylitol, etc.

1/2

cup

coconut oil

or your choice of vegan block butter, 1 stick, melted

2

Tbsp.

oil

I use olive or coconut
Instructions
Preheat the oven to 350°F/180°C. Line  a 4.5 x 8.5 in. loaf pan with a strip of baking parchment, or grease so baked loaf does not stick.

In a small bowl, mix fresh cranberries with 2 tsp. flour until they are well coated. Set aside.

Spin tofu, orange juice and vanilla extract in a blender or processor until smooth.

Place flour, baking powder, baking soda, cornstarch, salt and sugar in a large bowl and whisk to combine. *NOTE: if you use liquid sweetener, blend it with the liquid ingredients first.

Add melted butter, oil and orange zest to the flour mixture and stir until everything is coated.

Gradually cut the wet ingredients into the dry to form a batter. Fold in the cranberries.

Pour the batter into the prepared loaf pan and bake for about 75 minutes until a thin knife inserted into the center of the bread comes out clean. I like to tent, loosely cover, the top of the cake with tin foil in the last 20-30 minutes of baking so it doesn't get too dark on top.

Leave the cake to cool in the pan for 20 minutes. You can then carefully turn it out onto a wire rack and let it cool completely before slicing.