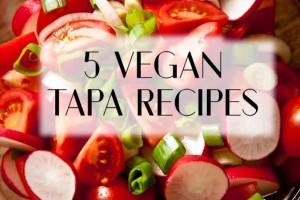 Last week was "Tapa 2014″ week here in San Juan de la Ramba, where I've been staying during this 2014/2015 winter. It's a lovely small village situated in the northern part of Tenerife, Spain. Ten Restaurants competed on serving the most creative tapa. All the restaurants served "their" tapa and a drink for the nice price of €2.50 ($3.10). The problem for me was, of course, that none of the tapas were vegan. So, I decided to find good tapas recipes and recreate vegan versions for myself.
The start of this project was to find the recipes. Here are those that I started out with:
2. Cherry Tomatoe and watermelon
5. Dessert tapas – blueberries 😀
Let's take the dessert first – I've never heard of tapas dessert before and I've spent some time in Spain maybe this is a vegan thing… but the taste was delicious.
#1 Jalapeno, too hot for me but my "tasters" love them, so if you are into hot stuff this is for you.
#2  Cherry Tomatoes – just lovely – nice mild taste, to be eaten before anything else 😉 and great for a hot summers day
#3  Tofu Triangles, I used coconut oil (and no taste of coconuts) plus I added nutritional yeast and served them warm – a great "snack" taste, salty!
#4  Radicchio cups, start to make the "cider-pickled beets" 5-7 days before use because it needs to sit in the fridge before use. But well worth it …
All the tapas I tried were so delicious and well worth the effort – not that they are hard to make, but tapas often need a bit of prep time.
A good idea for Christmas dinner starters.