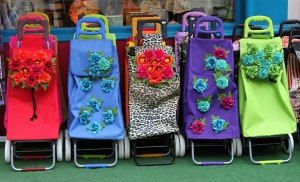 When you are a vegan newbie, it can be difficult to know exactly which staples to buy.
It may not even be possible to write the perfect starter shopping list for vegans. One thing is we have different tastes another is that we might not have the same idea of what is necessary. One thing though, we vegans need to pay attention to your vitamin and mineral intake.
The good people at OneGreenPlanet have created a "Starter-Shopping-List for Vegan Newbies". The best I have seen.
Here are 3 of the 15 items from the list:
5. Cashews

Going vegan doesn't mean giving up rich and creamy food. Use cashews to make cashew cream, which you can use in countless recipes such as Zucchini Fritters with Lemon Basil Cashew Cream or Raw Carrot Cake with Cashew Cream Cheese.

6. Almonds

Almonds are a must-buy because they are a quick and healthy snack. Having ¼ cup of raw almonds will provide 45 percent of your daily value of vitamin E and manganese. Also, use them to make almond butter.

7. Hummus

Hummus is excellent for dipping and using on sandwiches. The chickpea and tahini dip is healthy and creamy. Try it on the vegan humdinger sandwich. For a creative take on the chickpea dip, try spicy sweet potato hummus.
Check out the list, I hope you find it useful http://www.onegreenplanet.org/vegan-food/