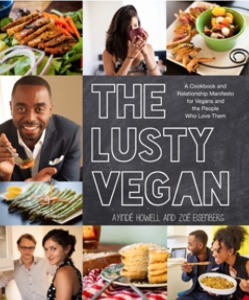 "The Lusty Vegan" is a cookbook and relationship manifesto for vegans and the people who love them
by CHEF AYINDÉ HOWELL AND ZOË EISENBERG.
Available for Pre-Order Now!
Pub Date: October 7th 2014 at Amazon
"Food, like love and sex, is important.
It's nourishing, it's uplifting, it's emotional,
and–like the relationship status of doom–
it's complicated."
The tantalizing treats include:
• Cloud 9 Pancakes (flip this page for the recipe)
• Beer Battered Tempeh Tacos
• Cajun Tofu and Dirty Quinoa
• Cherry Cobbler and Cacao Nibs
The authors:
Ayindé Howell is an executive Chef living and working in Los Angeles. His recipes have been published in the New York Times, Essence Magazine, VegNews Magazine, and many others. He is a fourth generation entrepreneur who currently holds the position of founder and "Bossman" of the award winning iEatGrass.com, also home to his critically acclaimed culinary event brand, Wildflower.
Zoë Eisenberg is a writer and editor who focuses on the topics of food, dating, and sex. A certified holistic health counselor with a degree in creative writing, Zoe has been published in a variety of print and online sources, from vegan information hubs such as Vegan Mainstream and Laika Magazine, to the viral and often outrageous women's website XOJane.com. She writes about living, loving, and eating on her blog, SexyTofu.com, and is currently the Managing Editor of iEatGrass.com.
Check out a Taster-Teaser recipe "Cloud 9 Pancakes" from The Lusty Vegan by clicking the link below: