The reason I bought a Lurch spiralizer is simple: my waistline. As a middle aged woman, I saw my body changing shape, a shape I didn't like. The waistline was getting bigger and bigger and bigger. I did the usual exercises, but they didn't help. Then I read that if I changed my diet to contain natural fats only, no oils and avoid starches then I would get my waistline back.
I get the healthy fat, natural from vegetables, fruits, seeds, and nuts. Yet no bread, no pasta, no potatoes seemed impossible to me. Then a friend introduced me to zucchini pasta and her Lurch spiralizer. The girl inside me started to play again – play with foods. I tested other brands of spiralizers and kept getting back to the Lurch and bought it. This is now 2 years ago and I'm still playing with my food.
Introducing Lurch Spiralizer:
Cuts spaghetti and spirals out of fruit and vegetables
Extremely sharp blades made of stainless steel
Three easily exchangeable blade inserts
Non-slip suction feet for secure hold
Easy to clean –  rinse under running water
Would you like to make foods like this?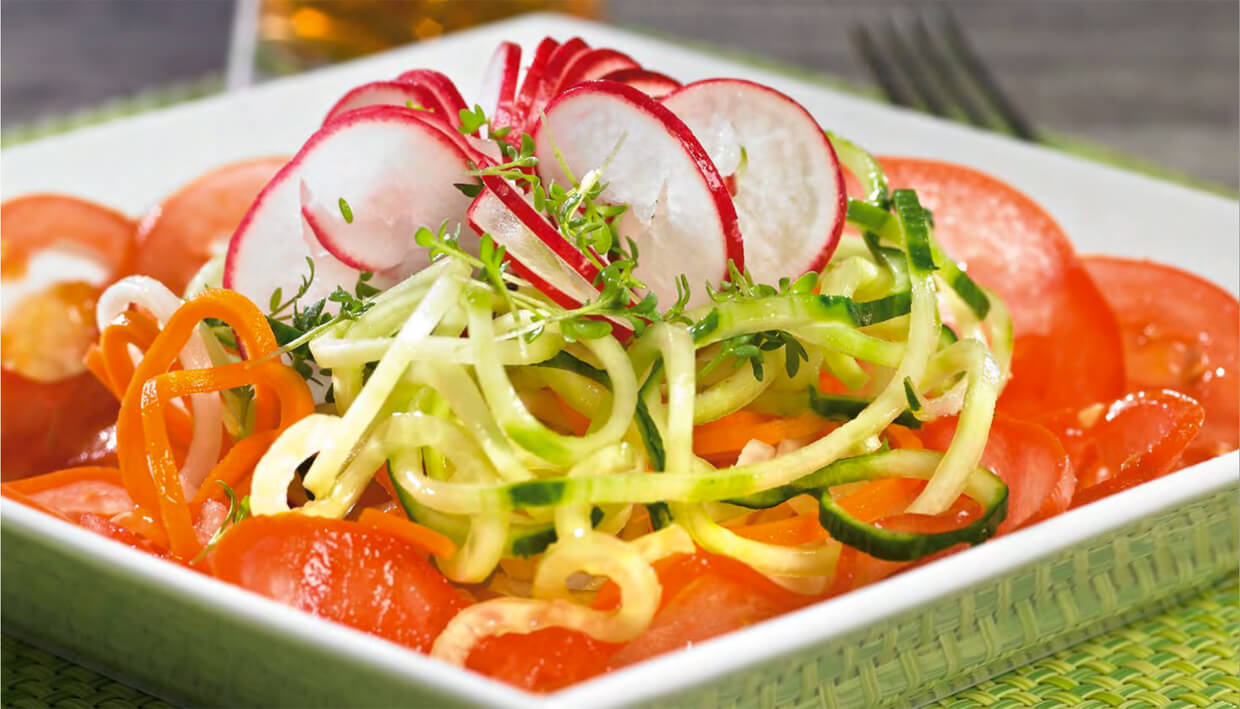 The spiralizer has 3 blades:
#1 Straight blade 25 mm
#2 Shredding blade 3×3 mm
#3 Chipping blade 4×6 mm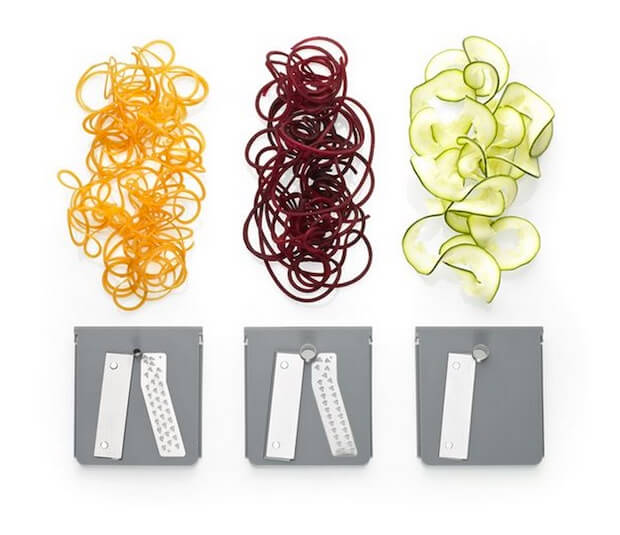 At the side of the spiralizer is room for 2 of the blades, when not in use, the third is a part of the gadget. Neat I love it.
The zucchini spaghetti I often make is easy to do. I use blade #3, eat it raw when warm weather and cook in 3 minutes when it's colder. You can spiralize the zucchini in advance, keep it in an airtight container in the fridge for 3 days.
Children love to eat spiralized veggies and fruits. Yet, I will not recommend you let them use the spiralizer. The blades are sharp as sharp can be.
Why I love My Spiralizer
The reasons I love my spiralizer can be boiled down to 3 things:
It is easy to use
It is easy to clean
It makes it easy to cook healthy and great looking meals.
Who the Spiralizer is Suitable For?
"Now, what's wrong with a sharp knife?" was my son, the chef's remark when I proudly showed him my brand new spiralizer. OK then, it is for every cook out there, who wants to make something healthy and outstanding. For Vegans, it's not only a cool gadget but also useful and will save time.
A Few Tips and Questions Answered
I often hear that the spiralizer will leave too much food waste. The answer is no. It is true that because of the metal core it will not spiralize the center of the fruits and vegetables. I save those bits in the freezer and use them when making soups or vegetable stock.
The question "does it make a big mess" is another, the answer is no, but you will need a big bowl to catch the noodles.
What is the size of the zucchini noodles? They are about as thick as strands of spaghetti.
Can I put it in a dishwasher? The unit is dishwasher safe but not the blades. The blades are easy to clean just rinse under warm water.
I am left handed, can I use it? It is not made specifically for left or right hands. You can use it, but it only grinds in the traditional direction of a screw.
Can I see how to use it? Sure, here's a video from Lurch showing you just that.
[videoframes src="https://www.youtube.com/watch?t=17&v=B__zaha32iI" skin="10″ autoplay="1″ controls="1″ headline_text="It Looks Fun, Doesn't it?" headline_color="#000000″ headline_size="22″]
You can buy the Lurch spiralizer at Amazon.com and Amazon.co.uk, Spain, France, and German.
There are several good cooking books about spiralizing, take a look at Amazon.