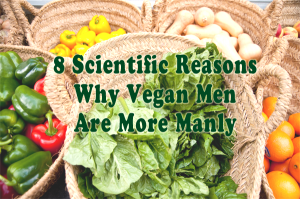 Actually 8 scientific reasons… Again one of my male friends said: I need meat I'm a man – I need it for the production of my testosterone and semen, a vegan diet may be fine for you women. Then when we reach to the compassion for farmed animals I was told they are doing fine… But I have found out that if I can convince my male friends that vegan men are more manly and I can prove it scientifically then they (the men) will listen, so I searched and found a great article of exactly what I wanted, here an excerpt from my favorite:
1. Vegan Men Have Higher Levels of Testosterone

If there is one scientific way to measure a man's manliness, it would surely be testosterone – the hormone that literally defines masculinity. Men might assume that their testosterone levels would plummet by eating nothing but plants, but that's just the stereotype at work again. A British Journal of Cancer study of 696 men (233 of whom were vegans) concluded this: "Vegans had 13% higher T [testosterone] concentration than meat-eaters and 8% higher than vegetarians." Not only did vegan men have as much testosterone as meat eaters, they actually have 13% MORE of this manly hormone. On the flip side, too much testosterone can be a bad thing because it leads to higher levels of IGF-I – a risk factor for certain cancers. Surprisingly, the report also found this: "Vegan men had on average 9% lower IGF-I levels than meat-eaters." A big boost in T and added protection against IGF-I? Win and win.
and #6 is just perfect, it doesn't get better than this
6. Vegan Men Can Cook
I've never met a lady who isn't attracted to guys who can cook. While going vegan doesn't directly result in cooking skills, it encourages people to cook for themselves more frequently. Most cities don't have endless vegan restaurant options and preparing your own meals at home is often a necessity. That was the case for me. After I went vegan, I fell in love with cooking (which turned out well). I hear this from others too – going vegan doesn't restrict your diet, it expands it. You go down new supermarket aisles and try new foods that you never considered before. You learn new cooking techniques. Food takes on a much larger and more positive role in your life. And if you need some help cooking delicious vegan meals, I know just the guy.
Read the full article: http://www.oneingredientchef.com/vegan-men/
Get access to our free library of menus, shopping lists & recipes for vegans